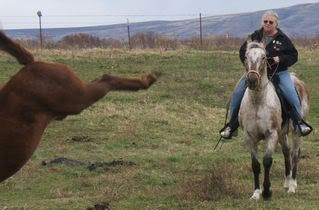 This photo is of me riding Hank the Tank, the hind feet you see are

Panikanic's

. She did not think I should be riding her Hank...

alrighty

then. So what does this picture have to do with Jack? Well let me tell you-
I got my very own Christmas miracle.
Jack was bucking!! Feet over his head, running in a circle bucking! He was

frustrated

because his treats were taking too long....one of the best Christmas gifts ever.
I know, after getting bounced and hurt badly it seems odd to celebrate bucking. But after Jack's accident in September, watching him struggle just to stand, and months of a very slow recovery this truly is something to celebrate. Now if his feet would just work when he is frightened it will all be good. We are on a journey together and his recovery is just part of the adventure.
Merry Christmas everyone!